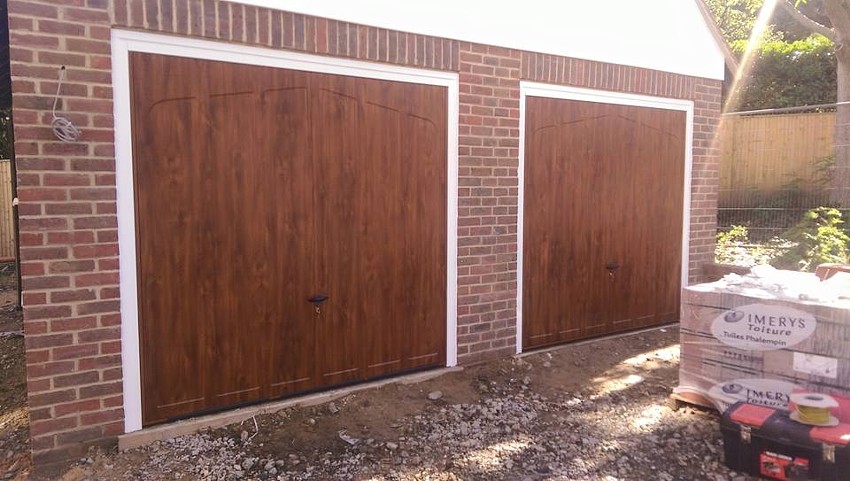 Are you searching for a garage door? Look no further. At Medway Home Improvements in Rainham, not only do we stock a complete range of the highest quality garage doors, but we also comprise of a professional, expert team happy to help at each stage – from choosing to installing all the way through to maintenance. When was the last time your garage door was replaced? It is highly recommended that your garage door is replaced every 15-30 years. Failing to do so can bring many difficulties, including low-quality aesthetics, loss of heat and therefore money and functionality issues.
Medway Home Improvements offer a selection of quality new garage doors that will exceed your expectations. More secure, less disruptive and beautiful, our garage doors are available in a range of styles and colours, and can be installed by our home experts. Being CRB vetted, we're able to supply our garage doors in homes, businesses, schools, colleges, hospitals and places of interest across Rainham – and with over 10 years of experience, you can rely on us for sure.
Our biggest priority is you. Our greatest achievement is topping our customer's expectations in Rainham. At Medway, we provide products, services and prices that will suit each of your needs. Choosing Medway Home Improvements involves choosing genuine experts. We have acquired the skills and knowledge needed to answer any questions or queries that you may have. We will guide in selecting a garage door that not only has exceptional security, but that also complements your home. Our services don't stop after installation; our fully trained team are there throughout every step of maintenance. We understand the urgency and stress that a broken garage door can cause; a reason that our 24-hour service will fix your garage door immediately. Having an excellent reputation with local businesses, we have built up excellent relationships with suppliers and worldwide manufacturers. Our vans are fully stocked with spares and parts, which will ensure your door is repaired quickly and efficiently.
With the variety of garage doors offered, the hardest part is choosing. Whether you'd prefer a simple up and over the garage, or a door as intricate as a slide opening garage door – Medway Home Improvements has it all. Still can't decide? Our team is willing to help and can provide insightful advice. Without a doubt, a garage door that satisfies your needs, taste and budget is waiting for you. The garage door of your dreams is waiting for you at Medway Home Improvements.
Up and Over Garage Doors
The standard garage door - the secure twist and pull handle available in a range of textures and colours. Now offering an automation feature that opens and closes your garage door without manual effort, all from a press of a button.
Sectional Garage Doors
Garage doors that include four sections, which fold onto themselves when raising the door – also offered as an automated door, responding as soon as you hold your dial, all from the comfort of your car.
Roller Shutter Garage Doors
No more dodging out the way of your garage door when it opens and almost knocks you out! Think sleek; think professional. Now a popular choice for homeowners as well as commercial use, roller shutter garage doors require little space, offer an excellent level of security and are easy to automate. Your neighbours will be impressed!
Slide Opening Garage Doors
Unsure of how to fill unneeded space in your frontage? Slide Opening Garage doors add character to your driveway. Also offering fast access to your garage and an abundance of space under the ceiling, Slide Opening Garage Doors are ideal for a driveway with space.
For the highest quality, most secure garage door, choose Medway Home Improvements. Installing in homes, businesses, schools and many more public places of interest across Rainham, our garage doors are available in a variety of styles and colours. For more information, call us on 01634 313 821.
We only use the best products built to withstand the best and worst of the typical British weather.​
Home / Services / Garage Doors Rainham Spade Lane Industrial Estate Spade Lane Industrial Estate