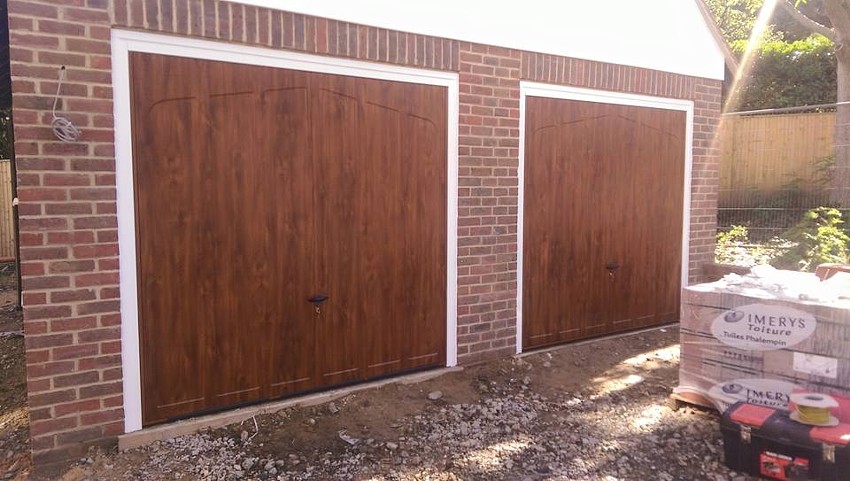 Garage Doors - Gillingham
Are you looking for a garage door? We know you want the highest quality at the lowest price; the most efficient installation in the quickest time, and the best suppliers at a location near you. Search no further – our professionals at Medway Home Improvement can tick all boxes.
Our garage specialists will be there at all stages of your journey – from guiding your choice to installation. We offer unique, affordable services to all homes across Gillingham and surrounding areas. As well as an extensive selection of doors we specialise in; installation, maintenance and repairs – and with over ten years of experience, you can undoubtedly put your faith in us.
At Medway Home Improvements, our garages are of the highest quality for the most affordable prices. Having an excellent reputation with local businesses, we have built up a superb relationship with suppliers and worldwide manufacturers. Thus, we supply over 80% of the trade for garage doors in Gillingham. Our professionals are CRB vetted. This means that not only do we supply and install garage doors for homes in Gillingham - but also schools, colleges, hospitals and places of public interest.
For all staff members, our biggest priority is you. We aim for every customer in Gillingham to be 100% satisfied without products, services and price. Our services don't stop after installation. Our fully trained team are there throughout every step of maintenance. We understand the urgency and stress that a broken garage door can cause; our 24-hour service will fix your garage door immediately. Our vans are fully stocked with spares and parts, which will ensure your door is repaired quickly and efficiently.
We stock an extensive selection of garage doors. From Up-And-Over doors to Slide-Opening doors, your needs will be met.
Up and Over Garage Doors
The standard garage door - the secure twist and pull handle available in a range of textures and colours. Now offering an automation feature that opens and closes your garage door, all from a press of a button.
Sectional Garage Doors
Garage doors that include four sections, which fold onto themselves when raising the door – also offered as an automated door, responding as soon as you hold your dial, all from the comfort of your car.
Roller Shutter Garage Doors
No more dodging out the way of your garage door when it opens and almost knocks you out! Think sleek; think professional. Now a popular choice for homeowners as well as commercial use, roller shutter garage doors require little space, offer an excellent level of security and are easy to automate. Your neighbours will be impressed!
Slide Opening Garage Doors
Unsure of how to fill unneeded space in your frontage? Slide Opening Garage doors add character to your driveway. Also offering fast access to your garage and an abundance of space under the ceiling, Slide Opening Garage Doors are ideal for a driveway with space.
Are you hoping to find your dream garage door? It's waiting at Medway Home Improvements. Get in contact today and let your dream become a reality!
We only use the best of products built to withstand the best and worst of the typical British weather.​
Home / Services / Garage Doors Gillingham
Garage Doors - Gillingham Spade Lane Industrial Estate Spade Lane Industrial Estate