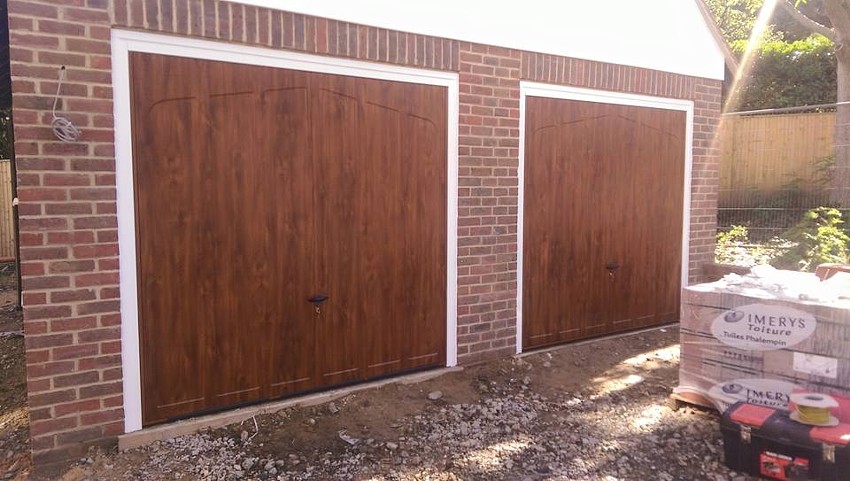 Searching for a garage door? If you want a garage door that's high in quality but low in price and a garage door that can be installed quickly yet professionally, then look no further.
At Medway Home Improvements, we offer our unique, affordable services to all domestic properties across Maidstone and its surrounding areas. As well as an extensive selection of doors, we specialise in installation, maintenance and repairs of garage doors – and with over ten years of experience, you can certainly rely on us.
With a large variety of garage doors on offer, the hardest part is choosing what is best for you. Whether you'd prefer a simple upgrade or a new and improved garage door; we will help find the right product for you. You can choose from a door as intricate as a slide-opening garage door to an electronically controlled garage door. Still can't decide? Our team is willing to advise, we are able to provide insightful advice, without a doubt, we will have the perfect garage door for you. Your dream garage door is a phone call away – our services in Maidstone will make your dreams a reality.
Up and Over Garage Doors in Maidstone
The standard garage door - the secure twist and pull handle available in a range of textures and colours. Now offering an automation feature that opens and closes your garage door with no manual effort, all from a press of a button.
Sectional Garage Doors in Maidstone
Garage doors that include four sections, which fold onto themselves when raising the door – also offered as an automated door, responding as soon as you hold your dial, from the comfort of your car.
Roller Shutter Garage Doors in Maidstone
No more dodging out the way of your garage door, as it opens and almost knocks you out! Think sleek; think professional. Now a popular choice for home owners as well as commercial use, roller shutter garage doors require little space, offer an excellent level of security and are easy to automate. People will sure to be impressed!
Slide Opening Garage Doors in Maidstone
Unsure of how to fill unneeded space in your frontage? Slide opening garage doors add character to your driveway. Also offering fast access to your garage and an abundance of space under the ceiling, Slide Opening Garage Doors are ideal for a driveway with space.
If you're in need of a garage door repair, or you're hoping to purchase a new door, we can help - call us on 01634 313 821.
We only use the best products, built to withstand the best and worst of the typical British weather.​
Home / Services / Garage Doors Maidstone Spade Lane Industrial Estate Spade Lane Industrial Estate