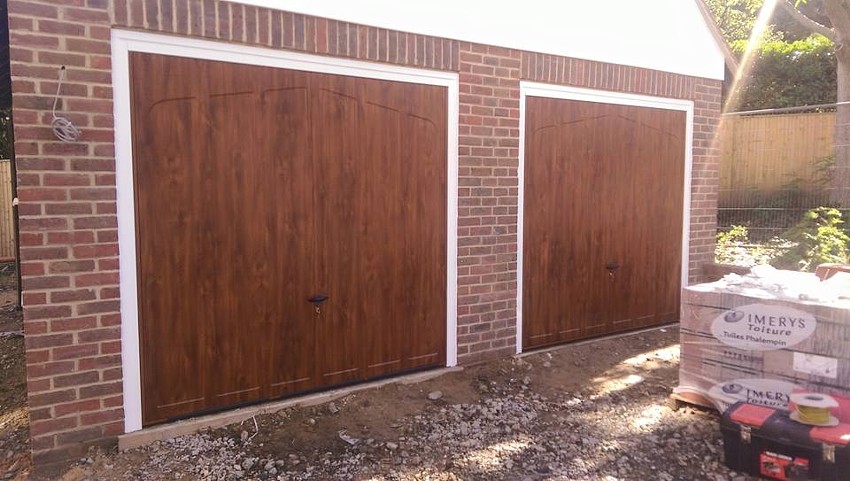 Garage Door Repair - Gravesend
At Medway Home Improvements, we understand the frustration and worry that a broken garage door brings. Our specialists want to be there if you're ever in this situation – a reason why we offer a 24-hour call out service to all homes across Gravesend. A broken garage door poses a massive security risk to your family, valuables and home, and can be dangerous at times for anyone near it. At Medway in Gravesend, we know that your garage doesn't only protect your car. It protects you, and your family. It makes your family feel safe, and adds value to your house. With this knowledge, our garage experts aim to repair all garage doors within two days – with no additional call out charges. Whether your garage door is as simple as a standard up-and-over garage, or as intricate as a roller garage, we want to ensure that it is kept secure.
Having had over thirty years of experience, our team of garage door technicians in Gravesend can guarantee a door that will be fixed as quickly and efficiently as possible. We have built up a strong reputation as a reliable garage door repairing company having made strong connections with suppliers and manufacturers of garage doors from across the world. Therefore, we strive to offer the best. However, if expectations aren't met and we are unable to fix it – we won't charge you a penny.
Once our team are called out to repair a garage door, a van filled with spares is driven to ensure the quickest and most efficient repair. However, we ask that you let us know the name, make, model and size of your garage in order for us to guarantee a smooth, productive repair. It might be that you're able to fix your garage yourself, but lacking the suitable tools and products for an efficient repair. Having developed strong working relationships with suppliers and manufactures of garage doors, the part required for your garage is waiting for you at Medway Home Improvements in Gravesend – at prices that are hard to beat.
Our services don't stop at garage repairs. At Medway Home Improvements in Gravesend, we can facilitate any issues that occur with garages. Our garage door engineers will repair broken cables, springs, broken tracks and electric operators for garage doors in homes and businesses across Gravesend. Our experts are also CBR checked, offering services at community places of interest as well as homes and businesses across Gravesend. Understanding the importance of security, issues as simple as a broken garage door handle or lock can be fixed. Being specialists within the industry, we will ensure to use the highest quality door handles and lock barrels, giving your garage the maximum possible security.
Have you ever been met with the worry and stress of a broken garage door? Medway Home Improvements gives you peace of mind that whenever the worst happens, our specialists can be there. For an enquiry, call us on 01634 313 821.
We only use the best products built to withstand the best and worst of the typical British weather.​
Home / Services / Garage Door Repair Gravesend
Garage Door Repair - Gravesend Spade Lane Industrial Estate Spade Lane Industrial Estate