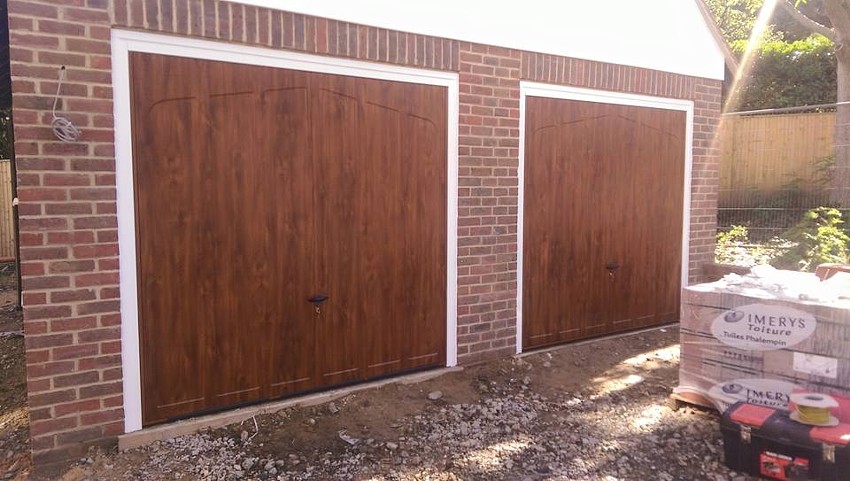 Reliable garage door replacement and repair
service in Rainham
Has your garage door become broken, damaged or is now out-dated? Here at Medway Home Improvements, we offer homeowners in Maidstone our garage door repair service. Available for a 24-hour call-out, we can make sure your garage door doesn't pose a security risk to your home.
Your garage door isn't just for show. Your garage door protects your valuables, your home and your family. We understand the frustration and worry that a broken garage door may bring. Whether it's used for your car or as an additional room, your garage door plays a significant role in your life. But, when it's broken, your garage door poses a massive security risk. Not only does it expose your valuables to thefts and pose a threat to your household, but it is also a hazard for anyone near it.
For these reasons, we offer a 24-hour call-out service for homes across Rainham – costing no additional charges! With over 30 years of experience, our garage door technicians in Rainham can guarantee, and your door will be fixed as quickly and as efficiently as possible.
Garage Door Repair - Rainham
Efficient emergency garage door repairs for businesses and homes in Rainham
Furthermore, our services don't stop at garage repairs. At Medway Home Improvements in Rainham, we can facilitate any issues that occur with garages. Our garage door engineers will repair broken cables, springs, broken tracks and electric operators for garage doors in homes and businesses.
Being specialists within the industry, we will ensure to use the highest quality door handles, lock barrels and materials. By doing so, we can ensure your garage upholds to the maximum possible security levels.
We supply and install a wide variety of garage door, so you'll be guaranteed to find a shutter that effortlessly matches your existing home. Available in numerous finishes, styles and colours, finding your new garage door couldn't be easier. But, regardless of the model you choose, you will be guaranteed a garage door that is durable, secure and enhances the look of your home.
Is your broken garage door posing a security risk to your home and valuables? Our 24-hour call-out service is needed! We can provide our services to all homes and businesses across Rainham, so get in touch. Spade Lane Industrial Estate Spade Lane Industrial Estate