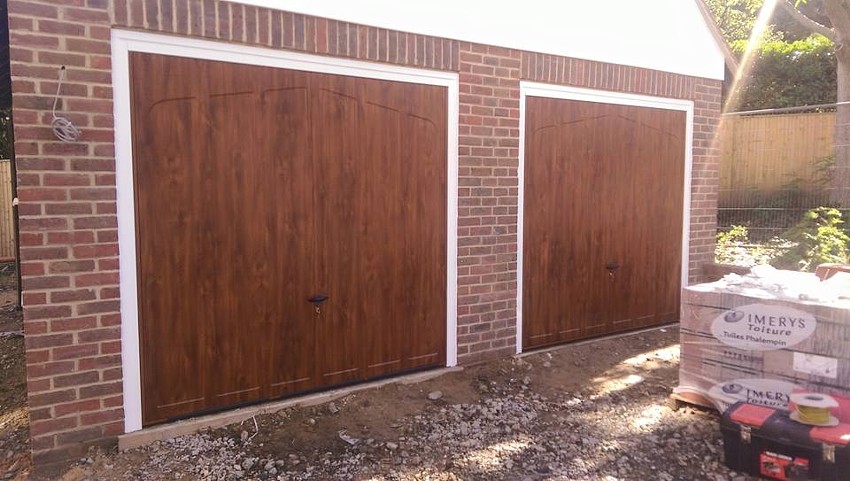 Garage Doors - Walderslade
If you are looking for garage doors in Walderslade then you've come to the right place, here at Medway Home Improvements we offer a comprehensive, affordable and professional garage door service to homes in Walderslade and its surrounding areas. We specialise in the supply, installation, maintenance and repair of garage doors in Walderslade.
We have an extensive selection of garage doors in Walderslade and we are sure we will have the garage door that suits your needs, taste and budget. Our team of garage door specialists can discuss the different styles of garage doors with you to help you find the right garage door for you.
Here are some of the garage door styles that we can offer you;
Up and Over Garage Doors in Walderslade
Up and over garage doors are the standard garage door, you twist the handle and pull for the door to come out and up. We can also offer an automation feature for this garage door, allowing you to open and close the garage door from the press of a button.
Sectional Garage Doors in Walderslade
Our sectional garage doors have four sections that fold onto themselves as you raise the garage door; again we can make this an automated garage door so the garage can open and close when you press a button – even from the comfort of your car.
Roller Shutter Garage Doors in Walderslade
These doors were previously very popular for commercial use but they are fast becoming a popular choice for home owners. The main reason for this is because they require very little space, they offer an excellent level of security and are easy to automate. Due to the fact the garage door does not come out from the garage it means they are ideal for tighter spaces.
Slide Opening Garage Doors in Walderslade
If you have a small amount of space in front of your garage then side opening garage doors are not for you, however if you have the space then they look great, especially when you opt for side opening garage doors made from wood.
If you are looking for a new garage door in Walderslade or if you need an existing garage door repaired then give us a call. We look forward to hearing from you soon.
We only use the best products built to withstand the best and worst of the typical British weather.​
Home / Services / Garage Doors Walderslade
Garage Doors - Walderslade Spade Lane Industrial Estate Spade Lane Industrial Estate