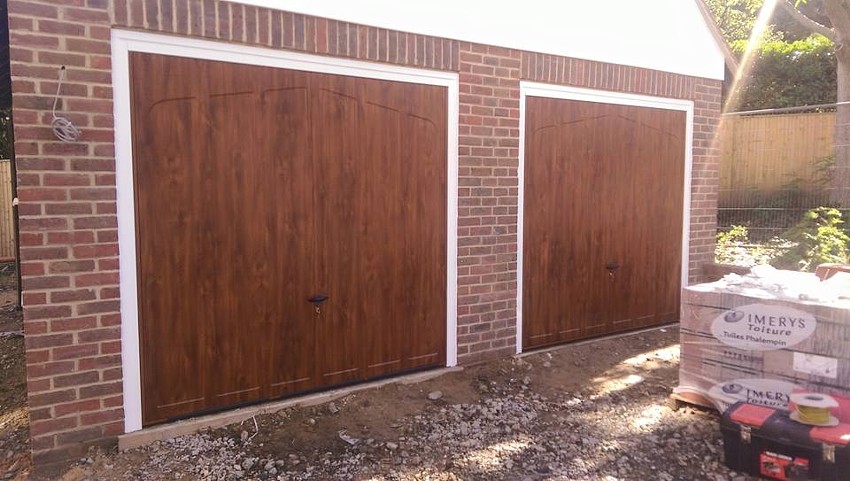 If you're after a new garage door or are looking for a garage door replacement in Bromley, then Medway Home Improvements are your best option. Not only do we allow freedom of aesthetics and functionality with our garage doors, but they are also competitively priced. A new garage door can be rewarding, there is more to its functional purpose of easy access – they also preserve inside temperatures and act as a security barrier for your possessions. With our selection of garage doors they are all designed to provide optimum security and manoeuvre effortlessly.
From static garage doors to automatic, you can be certain to find the most suitable garage doors for your home in Bromley, here at Medway Home Improvements. Our clients are guided towards finding the best garage door that reflects your requirements; furthermore our garage doors can be fitted with windows and/or other decorative features so your home really stands out. At Medway Home Improvements we can guarantee Bromley homeowners with the highest standards of service and installation results. We can supply Bromley with an excellent variety of garage doors so you can find one that greatly complements your home.
Investing in a new garage door or completing your extension with one is a worthwhile feature to add to your home. They allow a room to be highly secure yet open up into a spacious area all at your command. If you settle for an electric garage door this makes an exceptionally easy method of parking your vehicle. With many years experience dealing with garage doors and their functionality you can rest-assured that you are dealing with a reputable tradesmen.
Get in touch with Medway Home Improvements' experts today if you're looking for a garage door in Bromley or would like further guidance towards the best model for you. You will feel welcomed upon first communications and all throughout the duration of the installation project.
Up and Over Garage Doors
The standard garage door - the secure twist and pull handle available in a range of textures and colours. Now offering an automation feature that opens and closes your garage door, all from a press of a button.
Sectional Garage Doors
Garage doors that include four sections, which fold onto themselves when raising the door – also offered as an automated door, responding as soon as you hold your dial, all from the comfort of your car.
Roller Shutter Garage Doors
No more dodging out the way of your garage door when it opens and almost knocks you out! Think sleek; think professional. Now a popular choice for homeowners as well as commercial use, roller shutter garage doors require little space, offer an excellent level of security and are easy to automate. Your neighbours will be impressed!
Slide Opening Garage Doors
Unsure of how to fill unneeded space in your frontage? Slide Opening Garage doors add character to your driveway. Also offering fast access to your garage and an abundance of space under the ceiling, Slide Opening Garage Doors are ideal for a driveway with space.
Is your home or business in need of a new garage door in Bromley? Let us advise you on your choice; give us a call on 01634 313 821.
We only use the best products built to withstand the best and worst of the typical British weather.​
Home / Services / Garage Doors Bromley Spade Lane Industrial Estate Spade Lane Industrial Estate