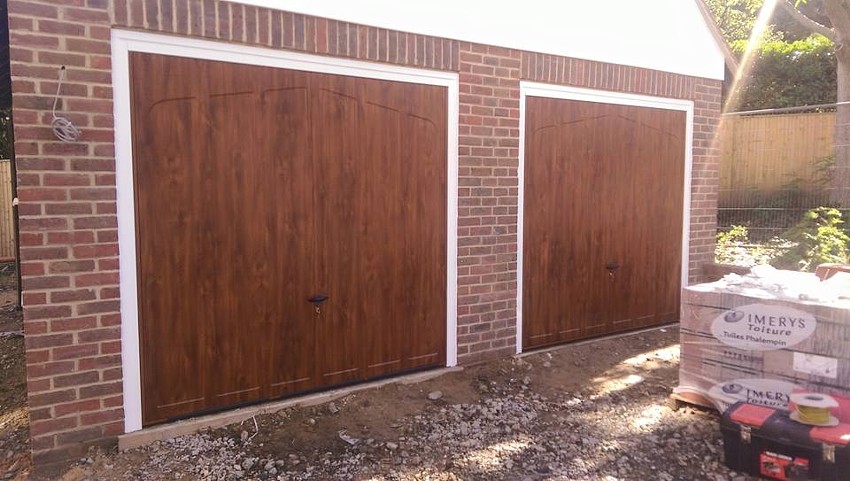 Looking to complete your home with a new garage door? Medway Home Improvements supply the largest range of high quality garage doors in Kent. We provide both static and automatic garage doors, available in a range of colours to effectively complement your home. All our garage doors come at an affordable price and you can expect nothing but great communications from start to finish with our team.
All our garage door installers have had years of experience dealing with the manufacture and maintenance of garage doors, alongside installation we can provide you with advice on aesthetics, function or care for your garage door – this is because customer service and product quality are our primary aims.
We have a range of garage door styles to provide to Kent homes and businesses – including up and over, sectional and slide opening garage doors; all to allow people to find their perfect garage door that best suits them. Investing in one of our garage door models you can expect exceptional security and valuable aesthetics – the doors can also save you from having to get out of your vehicle when you get home as they can be opened automatically.
Alongside providing garage doors for domestic properties, we have furthermore helped provide garage doors to public places throughout Kent including; hospitals, schools and colleges – this is due to our great reputability that we have built up over the years.
If you're looking for a reputable supplier of garage doors in the Kent area then Medway Home Improvements are the team you need. We ensure a sustained project management from first ideas and even post-completion, this is because we want the best for our customers. A range of textures and colours are on offer and all have been manufactured with exception endurance so you can effectively ensure a warm, secure garage – without worrying for the garage door's upkeep. If you would like further information contact us today.
Up and Over Garage Doors
The standard garage door - the secure twist and pull handle available in a range of textures and colours. Now offering an automation feature that opens and closes your garage door, all from a press of a button.
Sectional Garage Doors
Garage doors that include four sections, which fold onto themselves when raising the door – also offered as an automated door, responding as soon as you hold your dial, all from the comfort of your car.
Roller Shutter Garage Doors
No more dodging out the way of your garage door when it opens and almost knocks you out! Think sleek; think professional. Now a popular choice for homeowners as well as commercial use, roller shutter garage doors require little space, offer an excellent level of security and are easy to automate. Your neighbours will be impressed!
Slide Opening Garage Doors
Unsure of how to fill unneeded space in your frontage? Slide Opening Garage doors add character to your driveway. Also offering fast access to your garage and an abundance of space under the ceiling, Slide Opening Garage Doors are ideal for a driveway with space.
Is your home or business in need of a new garage door in Bromley? Let us advise you on your choice; give us a call on 01634 313 821.
We only use the best products built to withstand the best and worst of the typical British weather.​
Home / Services / Garage Doors Kent Spade Lane Industrial Estate Spade Lane Industrial Estate